What Is Keto Coffee?
This depends on who you ask. There are a number of ways to turn your morning coffee into a delicious coffee with healthy fats that is perfect for the Ketogenic diet!
The traditional way of making Keto coffee is called Bulletproof coffee. Originally invented by Dave Asprey as part of his Bulletproof diet, this coffee drink quickly became popular among Keto dieters.
This has become a staple for the Keto dieters I know and they absolutely love it. Here are a few variations of this recipe as well as the basic Bulletproof recipe.
Why Add Fat to Your Coffee?
Sometimes as part of the Keto diet, you don't want to eat breakfast, but maybe you need something on your stomach so you don't get hangry.
This is where Bulletproof or Keto coffee comes in. By adding fat to your coffee, you add substance, thus feeding your body for the workout it's about to have, or the day that's about to start.
But not just any fats, we want the healthy fats such as:
grass-fed butter
coconut oil
MCT oil or MCT oil powder
brain octane oil
The combination of fat and the caffeine in coffee is like a one-two punch to wake you up.
And we haven't even gotten to the protein coffee yet.
1. How to Make Bulletproof Coffee
The original bulletproof coffee recipe was made famous by Dave Asprey as part of his Bulletproof program. It turns your regular coffee into fat burning powerhouse to get you into a state of ketosis.
The simplest form of Bulletproof coffee is the following:
8 ounces of your favorite black coffee
1 tablespoon coconut oil or MCT oil
1 tablespoon of unsalted butter or grass fed butter (or Ghee if you can't handle dairy – per the bulletproof site)
Put all of the ingredients into a blender or an immersion blender to make it frothy and smooth.
I like to add 35% heavy cream to all variations of my Keto coffee.
What is MCT Oil?
MCT is short for medium-chain triglycerides. They are made by processing coconut and palm kernel oil in the lab. Find out more about it at WebMD.
The MCT oil is used for various reasons like for weight loss, performance, to aid in digestive disorders like celiac disease and short bowel syndrome. It's also been used to treat various conditions like AIDs and cystic fibrosis.
Read the complete guide to medium chain triglycerides here in MCT Oil for Keto
Basically, it's really friggin' healthy. You can order it from Amazon here.
2. How to Make Keto Coffee Taste Good – Add Some Flavor
Now that you know the basic recipe for bulletproof coffee, it's time to personalize it to your taste.
Here are a few things you can add to the above to make it taste like the coffee at your favorite coffee shop:
Add a drop or two of vanilla extract or peppermint extract, or a pinch of cinnamon or even some nutmeg to dress it up a bit. My preference is vanilla, but every once in a while I like cinnamon and nutmeg in my coffee.
To sweeten it with a natural sugar-free sweetener, I am loving monk fruit sweetener these days. My favorite is this So Nourished sweetener.
If you are able to handle artificial sweeteners then I LOVE the multitude of flavors they have over at Skinny Mixes! They have this nice Caramel Trio pack which has my favorite flavors in it! Take 10% off your first order by using this coupon code: KETOGENICWOMAN
UPDATE: These sugar-free syrups now come in a variety of non sucralose flavors! This means that coffee lovers can dress up their keto bulletproof coffee with natural keto sweeteners! See those here!
3. Keto Coffee Protein Shake
If you are heading to the gym in the morning, then you need your morning cup of coffee to act as a meal, take the above Bulletproof coffee recipe and add a scoop of collagen protein powder.
This adds a bit more substance and the mix of fats and protein will keep you full much longer than the same coffee without the protein.
The very best source for Collagen and Protein powder and all Keto Coffee add ins is Perfect Keto. Use my discount code KETOGENICWOMAN15 to get 15% off on your first order.
I particularly love the Chocolate collagen in my coffee. I make my Mom a coffee with the Ketone base every morning as recommended by her geriatric doctor to help her Alzheimers symptoms. There is no cure for this horrible disease but anything I can do to try and slow the progression!
Is Almond Milk Okay on Keto?
Almond milk is okay on Keto as long as it's not sweetened.
4. A Different Take on Keto Coffee
Some people use Lee's Good Fat Blend . This is a mixture of organic Ghee and coconut oil.
So you could use this with a scoop of collagen protein powder.
5. Bulletproof Coffee Without Butter – What is Ghee?
Ghee is basically butter separated into its dairy and non-dairy parts. It's heated to a point where the oil separates from the milk, so the dairy portion of butter is removed and what's left is the only the clarified oil.
If you have issues with dairy, ghee is a healthier alternative to using butter and is great for people who can't have or want to stay away from dairy. Learn more about Ghee here.
See, you still have a way to have that keto butter coffee!
6. Keto Chocolate Peanut Butter Coffee
Sometimes I like to add a tablespoon of cocoa powder and peanut butter on top of the basic recipe to mix it up when I'm feeling bored with my regular coffee. This is not an everyday luxury for me but every once in a while I like to have a liquid fat bomb!
You want something that tastes like a chocolate peanut butter cup, yet still has healthy fats like coconut oil and mct oil.
For a great chocolate peanut butter coffee as well as other keto coffee recipes check this one out!
Chocolate Peanut Butter Coffee
When Should I Drink Bulletproof Coffee on Keto
These Keto coffee recipes make a great substitute for breakfast (especially the protein shake). They can be used before the gym in the morning, or if you need a boost in the afternoon. It is perfectly fine to drink this on an empty stomach.
What I like to do is bring an insulated mug to the gym and leave it in my locker while I work out. I drink a bit of it before the gym and the rest after. It gives me just enough to get me through my workout and I have breakfast waiting for me when I am done.
What are the Health Benefits of Keto Coffee?
If you hang around the keto groups there are plenty of anecdotes from a lot of people who report a wide range of benefits such as:
weight loss
blood sugar regulation
mental clarity
increased energy levels
improved cognitive function
Check out what Healthline has to say about it here.
Health benefits or not, if your morning routine includes hot coffee, then consider getting some of your healthy fats from a delicious cup of keto coffee!
Please remember to get any medical advice from your doctor!
This article was written by Kristi Durham. Find more coffee recipes on her website at Warms My Soul. Kristi is also my virtual assistant who specializes in blogs. Find out about how you can work with her by visiting her website Quality Biz Assist.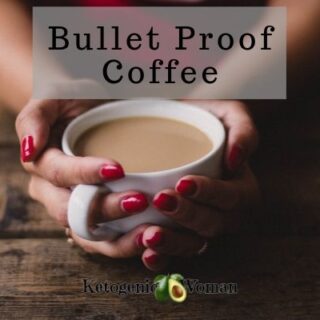 Bulletproof and Keto Coffee
The simple original way to make Keto coffee, also known as Bulletproof coffee.
Ingredients
8 ounces of your favorite coffee
1 tablespoon coconut oil or MCT oil
1 tablespoon of unsalted butter (or Ghee if you can't handle dairy)
Instructions
Blend all ingredients together in a blender.
Add vanilla or peppermint extract, cinnamon or nutmeg to taste.
Notes
Nutrition information for this recipe are for the basic recipe.
Add the nutrition information below for each additional item you add to your coffee.
Optional:
1 tablespoon heavy whipping cream (52 calories, 6g fat, 6mg sodium)
1 tablespoon Ghee (112 calories, 112g of fat)
1 tablespoon peanut butter (95 calories, 4g carbs, 8g fat, 4g protein, 55g sodium, 1 g sugar)
1 tablespoon Lee's Good Fat Blend Vanilla Bean (150 calories, 18g fat)
1 tablespoon collagen protein powder (45 calories, 5g carbs, 2g fat, 11g protein, 38mg sodium)
Nutrition Information:
Amount Per Serving:
Calories:

225
Total Fat:

25g
Sodium:

7mg
Pin this recipe so you remember where you got all these delicious Bulletproof and Keto coffee recipes.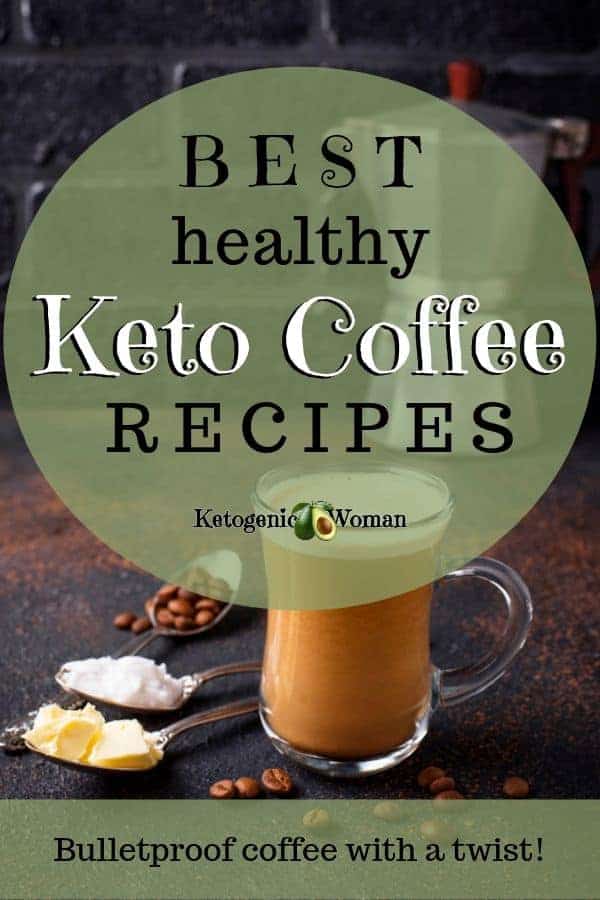 What Is Keto Coffee?