These Keto Chow Brown Butter Bites are a Keto fat bomb treat with only 2 ingredients! Super fast and easy. You can also use whatever flavored protein powder you have on hand!
Keto Chow Brown Butter Bites
Melt some butter, add your Keto Chow, freeze until firm and that is it! Yes, it's that easy!
All you need is Keto Chow (or other protein powder) and butter and a pan. Some cute candy molds are a fun addition! Check out these Fun shapes I created I created for Halloween movie night!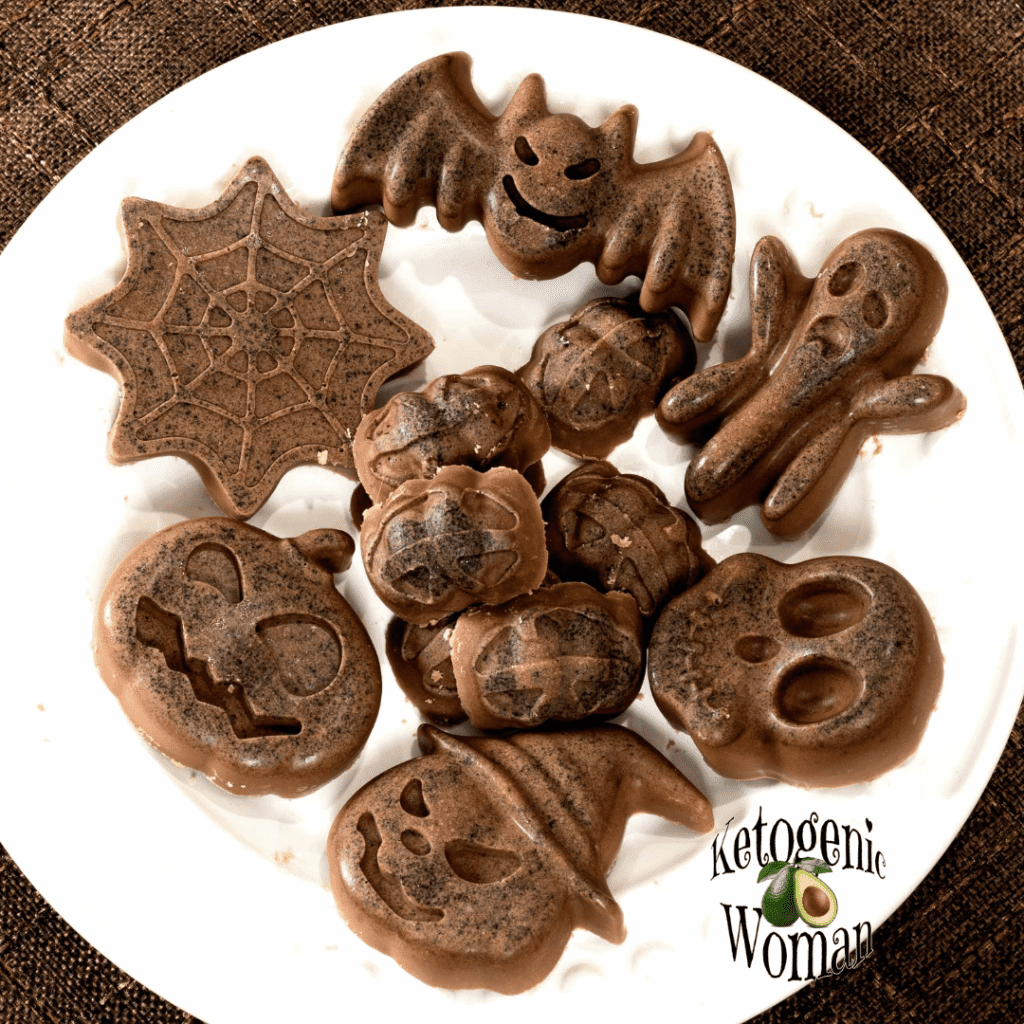 Variations to Flavor these Protein Powder Butter Bites!
My top choice is Keto Chow just for the incredible variety of flavors! Some of my favorites have been Chocolate Toffee, Egg Nog, Pumpkin Spice Caramel, Chocolate Peanut Butter. Use my link to get 10% off your order here.
I have also made these with Quest Protein Powders. I recommend Cookies and Cream or Salted Caramel!
Use some of your Keto sweeteners to sweeten to taste and then come up with your own flavors by using extracts. I'm thinking maple extract and cinnamon, that sort of thing!
Use your imagination to come up with your favorite flavors!
Tips and Tricks to Make the Brown Butter Bites!
You can use either salted butter or unsalted butter for the keto chow butter bites, they both work! However I find Keto Chow has enough salt in it and I prefer unsalted for this recipe
You can use any type of pot to melt and brown your butter. My first choice would be a large wide pan such as a skillet to have a larger browning area once the butter gets going!
Don't leave the butter simmering unattended. It should take about 15 minutes start to finish but be within close range to keep an eye on it. It can go from nicely browned to black within 30 seconds!
If you do not have any sort of silicone molds of any kind you can make bark! Place a piece of parchment paper over a large cookie sheet. Once the melted butter mixture has cooled down, pour it onto the sheet and freeze. After a couple hours, break up the bark pieces, place in a ziploc and keep in the freezer.
There are some super cute Christmas themed candy molds on Amazon. The smaller ones generally hold 1 teaspoon of your butter mix and the larger ones hold anywhere from 1 -2 tbsp and even larger. So just something to be aware of!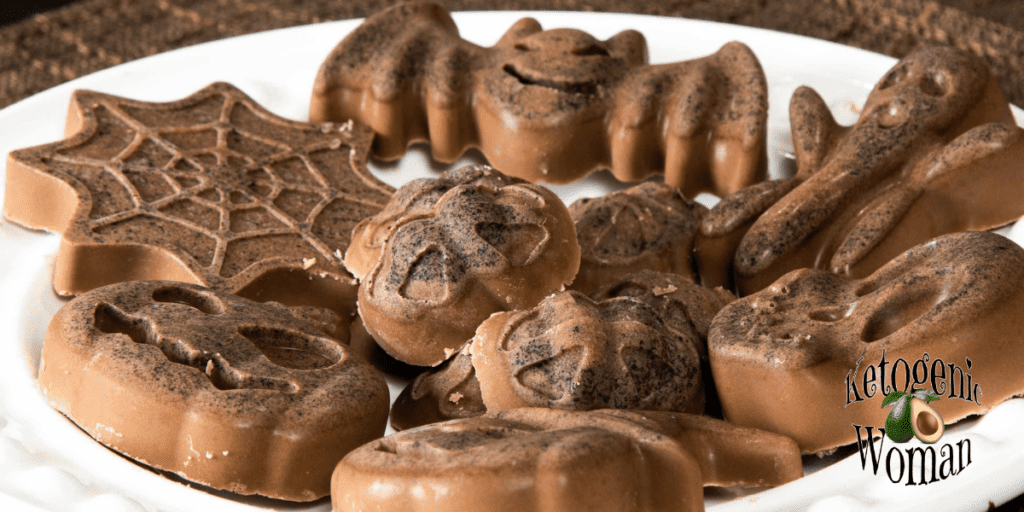 Printable Recipe Card for Keto Chow Brown Butter Bites!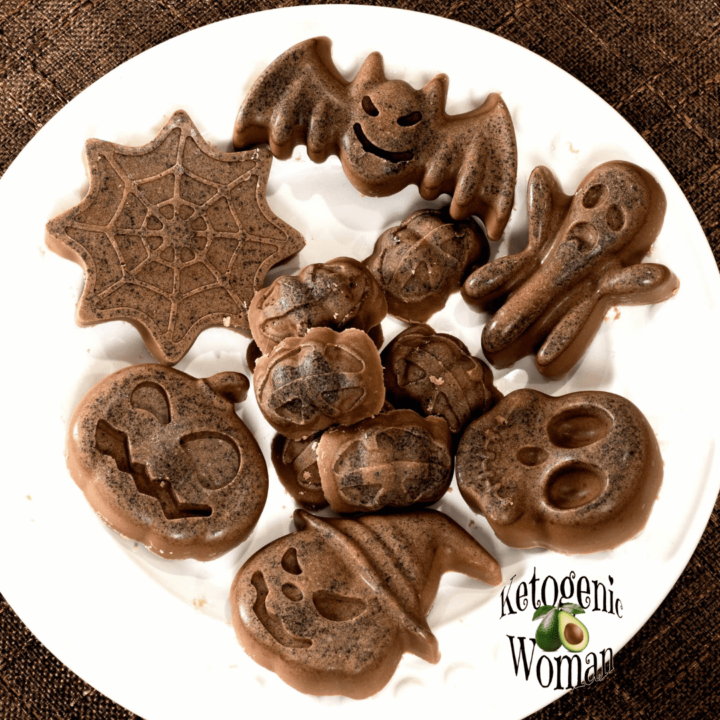 Keto Chow Brown Butter Bites
Total Time:
1 hour
16 minutes
These Keto Chow Brown Butter Bites are a Keto fat bomb treat with only 2 ingredients! Super fast and easy. You can also use whatever flavored protein powder you have on hand!
Ingredients
2 sticks unsalted butter (1/2 pound or 8 ounces)
Feel free to use your own favorite protein powder!
Instructions
In a frying pan or skillet melt butter on medium high heat
Once butter melts, stir with spatula until the butter solids begin to turn a caramel brown color.
You can keep stirring until it is even darker but be careful to not turn black! The whole process can take up to 15 minutes.
Once the butter is browned to your liking remove from heat and carefully pour it into a small mixing bowl or large glass measuring cup
Stir in your Keto Chow or other protein powder with fork until it looks like hot chocolate!
Scoop out 1 tbsp at a time and pour into a silicone candy mold.
Once you have filled 16 molds put the tray into the freezer for at least one hour or until frozen.
Pop them out and store in freezer in a ziploc bag or other container.
Notes
When using other Protein powders, you may need to use up to 2 scoops. Keto chow scoops are about 45 grams while most other Protein powders are less than 30 grams. Go by your own taste!
Some candy molds are only 1 teaspoon each. If you have those then you will end up with 48 smaller bite size keto chow bites!