Recipe for Keto Mexican Omelette
My inspiration for this Keto Mexican Omelette comes from a restaurant that used to be on the seawall of West Vancouver. It was my favorite place to go for Sunday brunch after a nice long walk on the seawall.
It was not even a real restaurant, more like a cafeteria on top of a grocery store called Capers.  This was before Whole Foods came to town and basically all these Organic and Natural little shops went out of business.
My favorite dish was their Mexican breakfast wrap and it is basically this dish without the wrap.
One of the ingredients for this omelette is spicy ground beef.  A practice I have which is a real lifesaver on Keto and/or low carb is batch cooking on the weekend.  I take a large package of ground beef, fry it up and add spices.  This spices to add are of course up to your personal taste, I like to add 1 tbsp each of ground cumin and coriander per pound of beef.  Then I also add some hot peppers to taste.  This then becomes the base for many weekday meals such as Ketogenic Tacos,  Taco-less Salad, Mexican Casserole and so on.
Keto Mexican Omelette (for 2 servings)
4 eggs
2 oz spicy ground beef
2 oz cheddar or monteray Jack cheese, grated
2 tbsp Salsa
That is for the basic omelette and then for the one that I made in the picture, I added these garnishes:
1/4 avocado, sliced
2 tbsp sour cream
1 tbsp sliced black olives
1 tbsp sliced picked jalapenos
2 tbsp fresh chopped cilantro
In a bowl, crack the eggs and beat them with a fork or whisk.  Pour egg mix into a heated frying pan (I use one of these new Green Earth Non-Stick pans
, the teflon pans are BAD for you).  After the egg sets, sprinkle the spicy beef, cheddar and salsa evenly over the egg and flip one side on to the other.
Cook for a bit, flip it over once and cook for a couple minutes on medium.
Divide the omelette in half and top each half with avocado, sour cream, olives and jalapeno.
This Keto Mexican Omelette as shown yields a ratio of 67/26/7 for the Ketogenic diet.
Per serving: Calories: 408, Carbs 8, Fat 31, Protein 27, Fibre 2
Just one bite and I was transformed back into time to the Dundarave seawall overlooking the beautiful Pacific ocean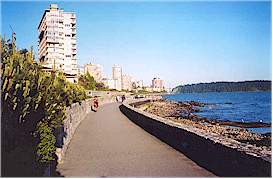 in West Vancouver.  I won't promise that for you, but still it's an awesome Sunday morning breakfast!
Enjoy!