Low Carb Breakfast – Keto Spinach Feta Muffins
Back in the days of my long commute to the office, my breakfast routine involved a stop at Starbucks.  Along with the requisite Venti Americano, my favorite breakfast grab at Starbucks was the Feta Cheese Spinach Wrap.  There was something about the combination of feta cheese and spinach that I really liked.
Now that choice, in light of what else they serve behind the magic glass Starbucks case, was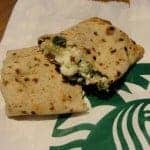 probably one of the better ones there.  But my diet is now grain free and so that yummy breakfast just will not do unless I eat the insides of the wrap only.  Very messy exercise while driving a car.
So the other day as I stared into the fridge and saw the bag of baby spinach and the container of feta cheese, I thought why not?  Should be easy to recreate that taste! Keto Spinach Feta Muffins were born.  And they turned out excellent.  My teenage daughter had seconds.  I will definitely be making a double batch next time!
This recipe makes 6 breakfast size muffins.  A man might eat 2 or 3, I was satisfied with one.  You will need a 6 cup muffin tin.  I highly recommend this silicone pan
, they pop right out every time!
Recipe: Keto Spinach Feta Muffins
6 eggs
3 slices bacon, cooked
2 cups raw spinach
1 cup crumbled feta cheese
1/2 c cheddar cheese
salt and pepper to taste
Preheat oven to 350.  Rinse the spinach under cold water, drain and place in a microwave safe bowl.  Microwave the spinach on high for 1 minute. (there will be enough moisture left on the rinsed leaves to cook the spinach).  Set aside to cool.
If you happen to have leftover cooked bacon, you could use that.  But who am I kidding, nobody has leftover cooked bacon.  You will have to chop this bacon up and fry it until it's how you like it.  Set aside to cool.
In a medium mixing bowl, whisk the eggs together until frothy. Add in the crumbled feta cheese and the grated cheddar cheese.  Once the spinach and bacon are cooled enough, add them to the bowl and mix until combined.
Divide the mixture evenly among the 6 muffin cups.  Bake for 30-35 minutes until muffins are firm.
Nutritional information for each muffin:
Calories 220, Fat 16, Protein 12, Carbs 3   Ratio 71/24/5
Adding a tbsp butter will bring it to 80/16/4.
These Keto Spinach Feta Muffins are a perfect take along to work breakfast, easy to pack and easy to eat.  They actually taste better than the Starbucks wrap, and are gluten free, low carb and sugar free. Can't beat that!