What is The Ketogenic Diet?
Many people mistakenly believe that The Ketogenic Diet is just another version of a low carb diet.  When we think of a low carb diet, we think of a diet that is high in protein and low in carbs.  And in fact, that is what I was used to when following a low carb diet such as Atkins or The 100 Diet.
The Ketogenic Diet, also called the Keto Diet, is actually High Fat, Moderate Protein and Low Carbohydrate.  You will often see the acronym LCHF (LowCarb High Fat) when people talk about this diet on forums and blogs.
It is the High Fat part of this diet that tends to scare people away, especially women.  As women, we are taught to fear and loathe all things fat.  Eating it is no exception to that rule.
If you are a woman reading this, hopefully you will follow along with my progress and change your mind.
It is the ratios that are important in the Ketogenic Diet.  For epilepsy and cancer, the ratios are very specific and should be medically supervised.  For those of us who are metabolically challenged, where weight is hard to lose, we want to achieve a state called Nutritional ketosis. When you are in ketosis, your body is burning fat.  Exactly what we want!  For more information I recommend The Art and Science of Low Carbohydrate Living
.
If you research all the information out there about the ketogenic diet, you will find many different ratios, all of them at least 60% fat or higher, going all the way up to 90% which is actually then considered a fat fast.  Many people can be quite successful on the 60 -65% fat Ketogenic diet.  I am not one of them!
There are those of us whose metabolism has been completely screwed up after years of yo-yo dieting, and even for other medical reasons.  Our goal is to get into a state of ketosis as quickly as possible and to do that we need to go with the higher fat ratio.
So, in order to get there fast, I am starting out with this ratio:  80% fat, 15% protein and 5% carbs.
I use a program called MyFitnessPal.com to keep my ratios in line.  You can use that on your smart phone as well as log into your account on the computer and it is free.
I am also keeping my calories to 1500 per day, since I am mostly unable to exercise at this time.  I hope that changes!
So for me, I eat 1200 calories per day of fat.  I eat it in the form of avocados, macadamia nuts, heavy cream and to a lesser extent, bacon and cheese.
I also prefer to seat several small meals a day, for example 5 meals of 300 calories each.  It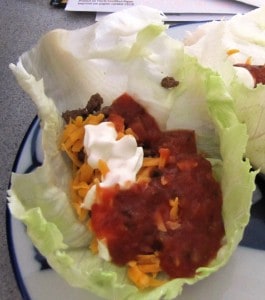 just suits me better. I have pictured one of my favorite mini-meals here, my Ketogenic Tacos.
Once you have reached ketosis and are stable, you can gradually change those ratios to 75% fat, 20% protein and 5% carbs.  You can fudge those ratios a little bit as long as you are still losing weight. Eventually, as long as I still keep losing, my ratios may be more like 65/25/10.
It's hard to describe exactly what this looks like on a practical daily basis, but if you read some of my posts under the Category of Daily Musings, you will find some good examples of what I eat every day.
I also recommend visiting my Getting Started page at the top of the menu here.
As I find good things to eat, I will also provide recipes or link out to my favorite recipes. I hope you will hang out with me as I go on this ketogenic journey!