Health Benefits of Walnuts
Science World Report says that a new study conducted by the Yale Griffin Prevention Research Centre in Connecticut has found that walnuts can help overweight adults with Diabetes and Heart problems.  This is good news for people following a ketogenic diet program because we are encouraged to eat walnuts and use walnut oil!
So of course when I read this news article, I was determined to check out some ways we can make use of walnuts that are easy and tasty.
First a look at Walnuts Nutrition from NutritionData
For nutritional ketosis the ratio is: 83/8/9 (Fat/Protein/Carbs), a great ratio for Keto!
In ¼ cup of walnuts (about 10 halves): Calories 191, Fat 19, Protein 18, Carbs 4, Fibre 2 (making 2 net carbs)
NutritionData also noted that walnuts have zero cholesterol, zero glycemic load and are a good source of the minerals copper and manganese.
How to best make use of the health benefits of walnuts.
Eat them Raw!  I prefer to get these Raw Organic Walnut Halves
.  They are cheaper because you get a 5 lb bag and I keep them in the freezer.  Actually, I keep all my nuts in the freezer to keep them in best condition.
Use walnut oil on Salads.  It has a unique flavor for something a little different. I did make mayo once with it but it is too strong flavored for that, so I stick to oil and vinegar based dressings. I prefer this Walnut Oil
that I get online from Amazon.
Walnut Parsley Pesto
.  Pesto is so versatile!  I used to rarely make it because basil and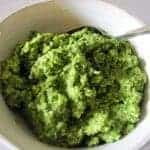 pine nuts are not exactly cheap!  But walnuts are way more reasonable and parsley grows like a weed in my garden and is available inexpensively year round.
I used this Parlsey Pesto recipe, but I measured things out exactly so that I could get you the proper macro nutrients and LCHF ratio.  Yes, you can thank me in the comments for my service to the Keto world!  🙂
My adapted Walnut Parsely Pesto
1.5 cups walnut halves
2 cups loosely chopped parsley
4 cloves garlic (use less if you are not a big fan!)
½ cup parmesan cheese
½ cup olive oil
Process first 4 ingredients in a food processor fitted with the S blade until crumbly.  Add olive oil and process for a few seconds.  Yield 2 cups.
Each 2 tbsp serving has a LCHF ratio of 87/9/4 or Calories 139, Fat 14, Protein 3, Carbs 1, Fibre 1
Here is what I made for lunch today using the Walnut Parsley Pesto:
Shrimp with Walnut Parsley Pesto (serves 4)
40 Jumbo Shrimp (thawed if frozen)
½ c Walnut parsley Pesto
2 oz parmesan or asiago cheese
Line a pan with foil and place jumbo shrimp in one layer. Spread pesto on top.  Broil, watching carefully.  When shrimp is cooked and pesto bubbling, sprinkle 2 oz of cheese on top and broil for another minute of two.
With the pesto, shrimp and cheese this meal then yields a ratio of 64/34/2 for Keto followers.  I would also serve this with a small salad.
Per serving: Calories 249, Fat 18, Protein 21, Carbs 1, Fibre 1
Now that you have this Walnut Pesto, the possibilities just open up!  I'm thinking Chicken with Pesto, Pesto omelettes, zuchinni boats stuffed with pesto and cheese.  I'm getting hungry again!  And all of them containing the health benefits of walnuts.
I'm going off right now to order some more Walnut Oil
!