Egg Fast Recipe: Egg Puffs
I tried this Egg Fast Recipe just this morning after seeing it posted in the Egg Fast Facebook group.  The original is called Eggs in Clouds and comes from this post on Framed Cooks.   PS: If you don't know about the LCFH Egg fast Stall Breaker Diet you can read the instructions on this older post.
I switched out the parmesan cheese for grated KerryGold Dubliner cheese which is my absolute favorite cheese.  I would expect no less from KerryGold who also make my favorite butter!  Oh and no, this is NOT a sponsored post!  I don't do them, I only recommend products I like and nobody sends me anything 'free' to review.
This was a very fast and simple recipe and the puffs were much bigger than I thought.  Eating 2 of them with Kerrygold butter was very satisfying and filling.
Items You Will Need:
Egg beater/mixer  (I've had mine since I was a teenager! They last forever)
Silicon sheet or parchment paper (I use this Wilton Silicone Mat.  It has paid for itself many times over because parchment paper adds up!)
Cookie Sheet
4 small bowls and 1 large mixing bowl
My one tip would be that I thought the yolks were too runny so I popped them in for an extra couple minutes.  Next time I will simply put the yolks in at the start of baking.
Egg Fast Recipe: Egg Puffs
Ingredients:
4 eggs
1/4 cup grated Dubliner Irish Cheddar (or parmesan, asiago, aged cheddar)
salt and pepper to taste
KerryGold butter
Instructions:
Preheat oven to 450 degrees
Separate egg whites from yolks, putting the egg whites into a mixing bowl and the

egg yolks each into a separate small bowl

With electric mixer, beat egg whites until stiff peaks form (2 or 3 minutes)
Gently fold in the grated cheese
Form 4 puffs on the baking mat with an indent in each puff (see photo)
Bake for 3 minutes. (You could put in the egg yolks now if you like them a little more cooked)
Remove from oven, drop one egg yolk into each indented puff.
Bake for 3 more minutes.
Remove from baking sheet with a spatula, sprinkle with salt and pepper, add your butter on top and eat!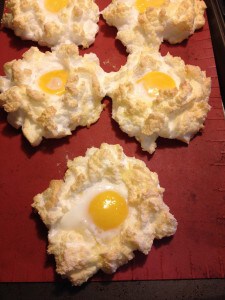 I am glad that I tried them and will make them again.  Also because they are so pretty and easy, I would even make a platter of these for a party brunch sometime.
I will be posting more egg fast recipes, time permitting.  If you want to see my results from 4 weeks of egg fasting, read this post.
Update: These are fantastic with this easy blender hollandaise sauce.
Egg Fast Tracker App:  This is a free app for Android that helps you keep track of your Egg to Fats ratios, plus your water and cheese consumption.  Install the Egg Fast Tracker app here.
Thanks for stopping by!