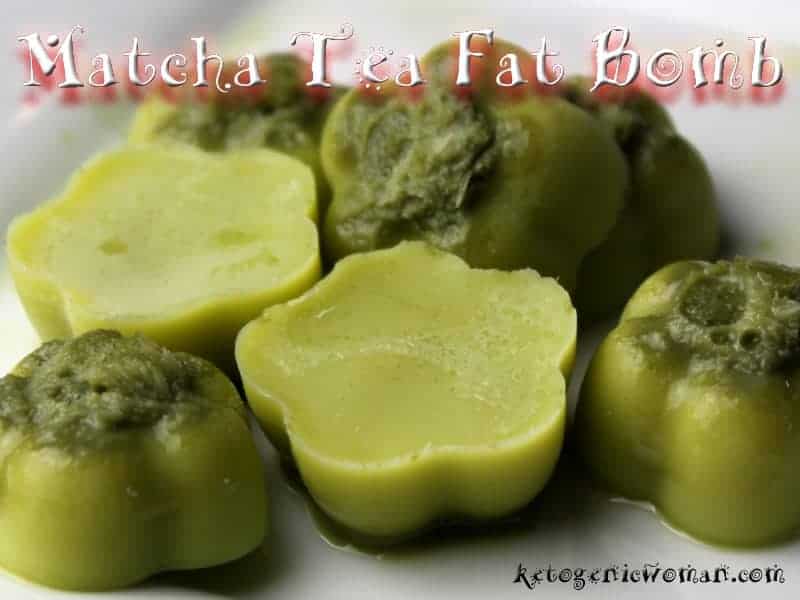 If you are a fan of Matcha teas and are doing the Egg Fast then you will love this Matcha Tea Fat Bomb.
If you have done the Egg Fast before then you know that one of the challenges is to get those fats in. This is a delicious way to accomplish that. It is easy to make, full of antioxidants and good clean ingredients.
Matcha Tea is a bit of an acquired taste but everyone I know who drinks their Matcha tells me that it is strangely addictive. For me that is so true! I drink 2-3 cups a day without sweetener and I find it delicious and satisfying.
A bag of organic Matcha Tea might seem pricey, BUT you only use a tiny amount, like about 1/4 teaspoon.  I can fill my mug up 2-3 times with boiling water re-using that same powder!  It just seems to last and last even with that tiny amount!
I like to eat these fat bombs straight from the freezer but you could also let 1 or 2 of these matcha tea fat bombs melt into a cup of boiling water for a delicious tea.
Let's get right to the recipe, but do check below the recipe for the benefits of matcha tea.  It's good stuff!
Ingredients to Make Matcha Tea Fat Bombs
What you will need for 8 fat bombs (2 fat bombs equal 1 tbsp fat)
Instructions for Matcha Tea Fat Bombs
Measure all the ingredients into a glass measuring cup with pouring spout.
Microwave on medium power for 30 seconds.
Take it out give a stir and if needed, microwave for another 30 seconds.
Pour mixture into 8 silicone candy molds and place into freezer until solid.
For the Egg Fast:  2 of these Matcha Green Tea Fat Bombs equal 1 fat.
Tips for Making Low Carb Fat Bomb Recipes:
Because silicone molds are floppy, I place mine on a small firm cookie sheet and place that in the freezer.  Yes, I've dumped fat bomb stuff in my freezer before, not fun!
If you don't want to microwave, use a double boiler or heavy sauce pan on low heat.
Make your first batch using only 1/4 tsp matcha unless you are used to the taste already.
I used the equivalent of 2 packets stevia to make mine.
Keep them in a sealed container or ziploc bag in the freezer.
Products that I use and love for Low Carb Recipes:
 Wilton 2115-0225 Stack-N-Melt Candy Mold, Heart

 Everyday Matcha, 113g (4 oz) – Organic – Powerful Antioxidant

 Nutiva Organic Virgin Coconut Oil, 15 Ounce

&
Benefits of Matcha Tea
There is a detailed article here about Matcha Tea.  I was excited to try this in an Egg Fast Fat Bomb because of all the antioxidants.  Matcha tea leaves are hand harvested and ground into powder with granite stones. Here is a quick list of known benefits:
Over 100 times more antioxidants that regular green tea
Boosts the immune system with presence of amino acids, polyphenols, catechins and chlorophyll
Helps reduce levels of triglycerides, total cholesterol and hepatic glucose content in diabetics
Promotes gastrointestinal health, mental alertness and a state of calm
So not only will these Matcha Tea Fat Bombs get you through an Egg Fast day, they are equally beneficial to use in your everyday keto diet!