Have you heard about the egg diet weight loss fast? This is the first one of a few articles where I will share my experience and recipes for this egg fast diet.
One of the frustrating things that has happened to me is that my weight on Keto/LCHF has just basically been stalled no matter what ratios I have tried.  Maybe it's my age (mid 50's), maybe it's my activity level which is now so much less than before my knee injury.
Whatever the reason, I have been frustrated by slow and even non-existent weight loss.
Enter the low carb egg fast!  Also called Egg Fest or Egg Diet Weight Loss Fast, also called the LCHF Egg Fast Stall Breaker!
Now it was that last name that really caught my attention.
What is the Egg Diet Weight Loss Fast?
Here are the original rules as designed by Jimmy Moore for his own Egg Fest which he apparently followed for 30 days and lost 27 pounds in that 30 days.
1. Must eat eggs as the primary source of fat and protein.
2. 1 tablespoon of butter used per egg consumed.
3. I must eat an egg no later than 30 minutes after waking.
4. The egg meals ideally should be eaten every 3 hours, but not more than every 5 hours.
5. I will follow this schedule even if I'm not hungry, however I'll only have 1 egg when that happens.
6. Cheese will be permitted up to one ounce per egg. (real cheese only)
7. A minimum of a half-dozen eggs must be consumed daily.
8. The eggs will be local pastured eggs loaded with healthy omega-3 fats and vitamin D. (this was his personal preference)
9. Egg consumption will cease three hours before bedtime
10. Diet soda will be allowed up to 3 cans daily with a goal of 1 or less.
Ok, so now you have HIS rules that he made for himself.  Here is how I reworked it for ME, still in keeping with the original plan:
 Eggs are still the primary source of fat and protein.
1 tablespoon of the following fats PER EACH EGG consumed (in order of preference):  grass-fed butter (Kerrygold) or Organic Extra Virgin Coconut Oil or sugar-free mayonnaise, preferably home made or Trader Joe's Mayo.  I limit my mayo to 2 tbsp daily and try to do mostly the grass fed butter.
Within 30 minutes of waking I make my BPC (bullet proof coffee).  I use 16 oz coffee, packet SweetLeaf Stevia, 1 tbsp coconut oil and 1 tbsp butter.  It looks and tastes like a frothy latte.  This means that I omit 2 tbsp fat later in the day with some of my eggs.
I do not go more than 5 hours between meals.
I only eat if I am hungry, except that I stick to the 5 hour rule.
Up to 1 oz of cheese per egg consumed (real cheese only)
Eat a minimum of 6 eggs daily
I try to get the best quality eggs that I can find and afford
I do not eat within 3 hours of bedtime
Diet soda?  No thanks!  I figure my morning coffee is my version of this rule.  However, we are finally seeing the Zevia Natural Soda here in Canada so I may have one of those now and then if I need something.
So there you have it, my very own custom tailored version of the egg diet weight loss fast!  In my next post I will share my own results of breaking my LCHF stall and then I will share some recipes!
Here are some menu ideas to get you started:
Need some Egg Fast support?  This is not my Facebook Group, but this is where I hang out to discuss everything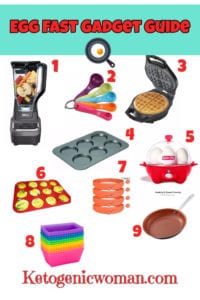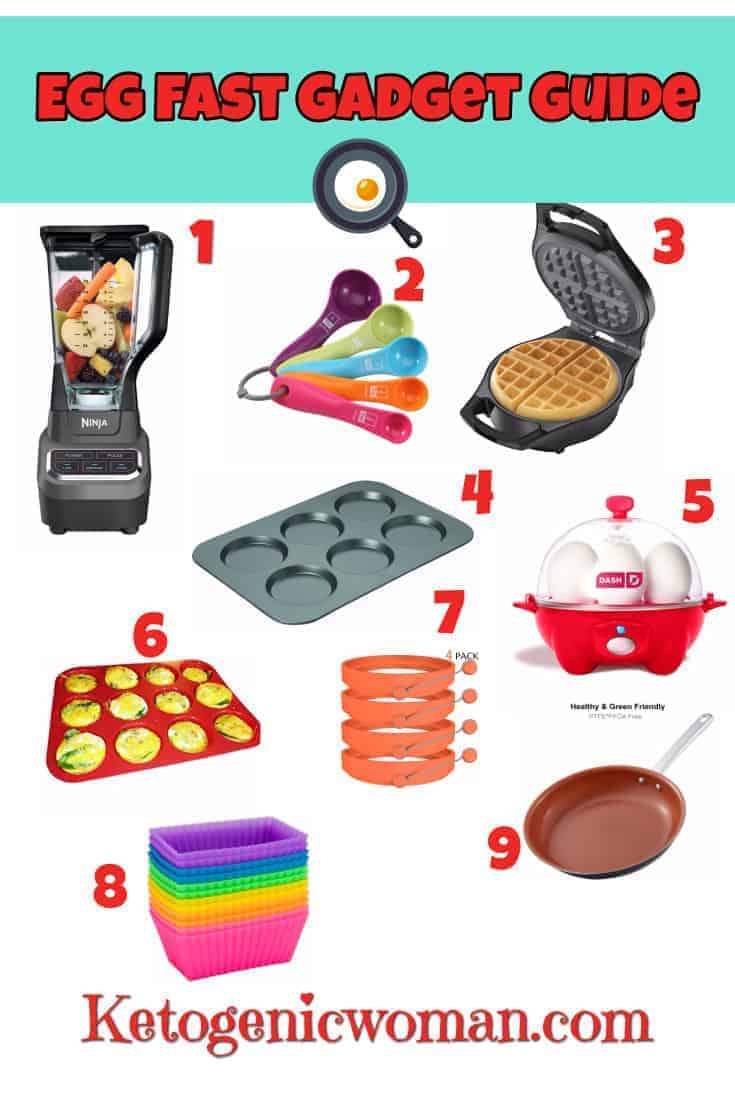 LCHF Egg Fast!  If you are serious and can follow the directions, come and join us in the fun!
Egg Fast Tracker App:  This is a free app for Android that helps you keep track of your Egg to Fats ratios, plus your water and cheese consumption.  Install the Egg Fast Tracker app here.
Check out my new post of my favorite egg cooking utensils!