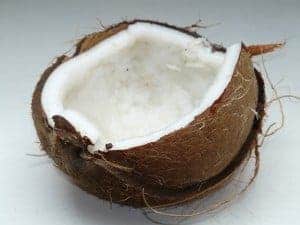 Being fairly new on the Ketogenic diet, I am still putting the pieces together as to how to optimize this for my health.  Coconut oil on the Ketogenic Diet is one way to do just that. Not only does it help us keep our fat ratio high enough for nutritional ketosis, it also has some pretty amazing health benefits.  I have been aware of the benefits of coconut oil for some time now and after watching an amazing video this morning on how Ketones can reverse the affects of Alzheimers, I am determined to get a daily dose of this in my diet.
And since we want that greater than 65% fat ratio, coconut oil on the ketogenic diet is a perfect addition.
What are the benefits of Coconut Oil on the Ketogenic Diet?
Healthy hair and skin
stress relief
raises HDL cholesterol (the good kind)
helps weight loss
boosts immune system
regulates metabolism
If you would like to read the whole lengthy explanation of the above, I got the information here from Organic Facts.
So, the question is, how do we use the coconut oil on a practical daily basis.  I have to admit that a couple days ago I was at the end of the day and MyFitnessPal told me that I was still way short on my fat but I was all out of carbs and protein.  Yes, I did it.  I ate a tablespoon of coconut oil straight up!  So that's one way.
Coconut oil also has a very high smoking point.  This means that you can fry stuff in it and it doesn't break down and oxidize.  Remember we want anti-oxidants.  This might be a good time to remind you again that I don't have any medical training and you should do your own research!
In looking around the low carb forums for ideas, I came across Bullet Proof Coffee.  I think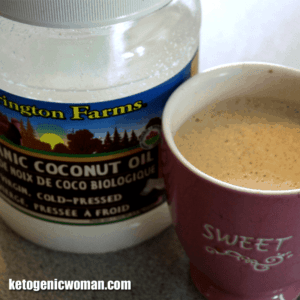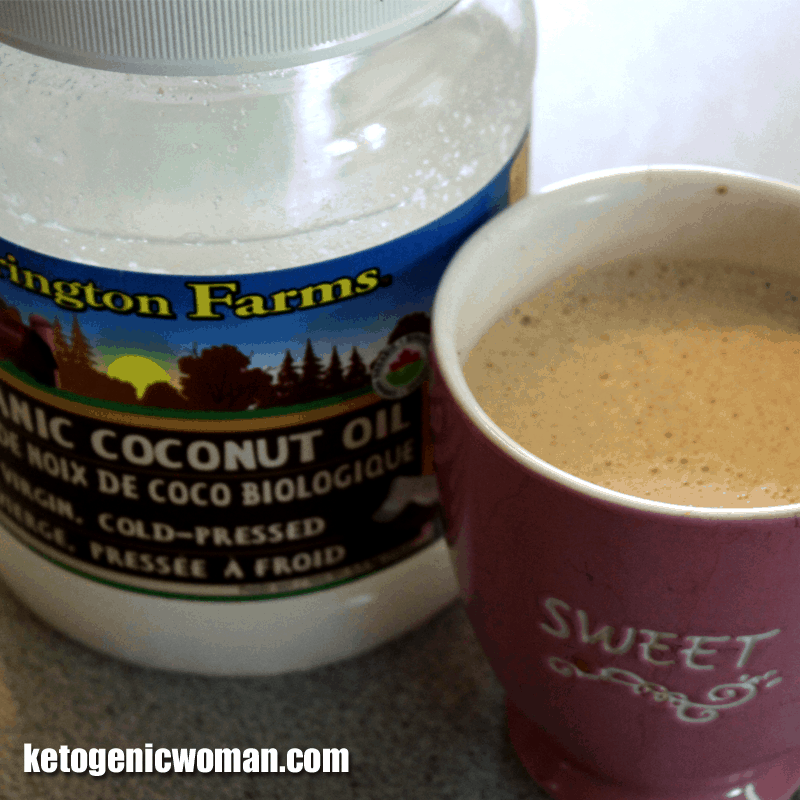 some people also call it Keto Coffee. Basically you take a cup of coffee and put it in the blender with 1 tbsp coconut oil and 1 tbsp heavy cream and whip it up.  I tried it this morning and I love it!  this is definitely going to be my new morning coffee routine.
The great thing about it for me is that I don't usually eat my first meal until 3-4 hours after I wake up.  So this gives me a little high fat boost to get me through that first part of the day where I am rushing to get ready and getting to my office job.
So at this point, all I have for you in terms of using coconut oil on the ketogenic diet is this:
fry your eggs in it
eat it straight up
Keto Coffee
But rest assured dear readers (all 2 of you!) , I will be coming back with more ways to consume this heart and brain healthy coconut oil!
In the meantime, I just want to add a couple things about choosing your coconut oil.  be sure that it is the unrefined, virgin, cold pressed oil.  You will see some cheaper brands but some of them are not that great.  Many stores now carry it at hugely inflated prices.  I have found that some Costco's have the good stuff for a great price but if that is not an option, go to Amazon.  They have great prices and carry several different brands.