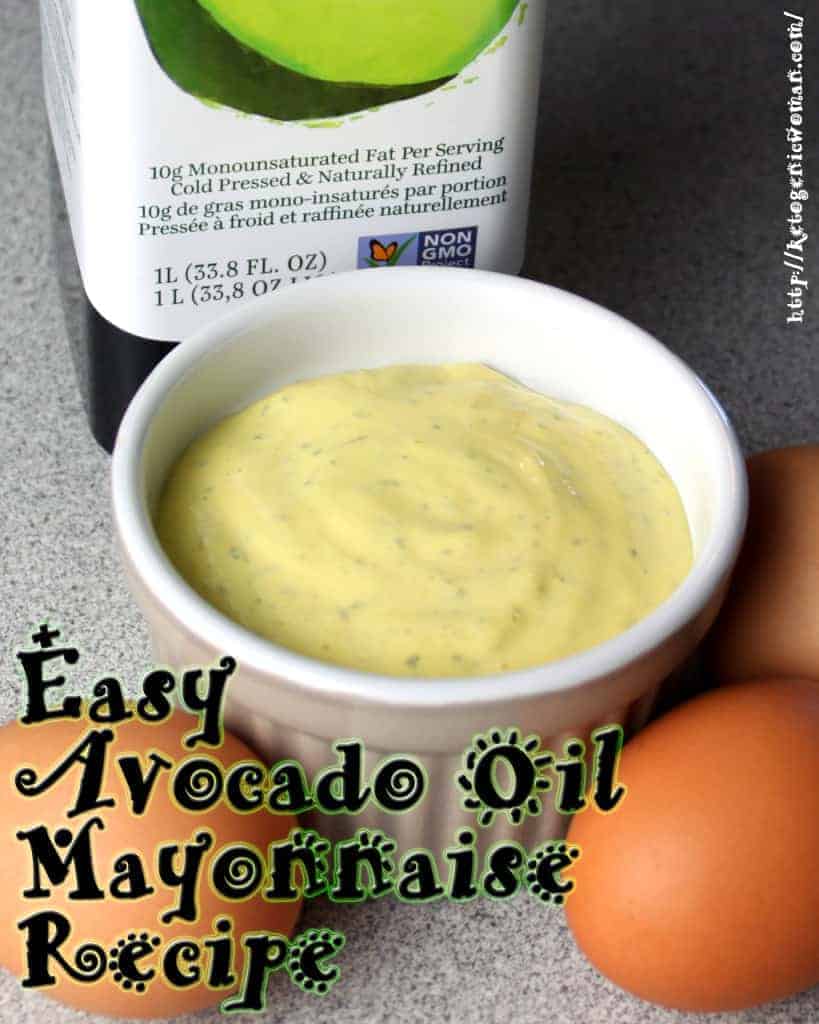 I really like mayonnaise. I mean I really, really like it! When I am doing the Egg Fast, I use more than I normally would. It was starting to bother me that all the store bought mayo around here were made with either canola oil or soybean oil. So I decided to make my own avocado oil mayonnaise recipe.
I talk a little about oils and fat in another article if you want to read a list of which fats and oils are best for the Keto diet.
The issue I have with the oils used in store bought mayonnaise is the high Omega 6 content as well as the fact they are partially or fully hydrogenated.  Not good!
Making homemade mayonnaise is really dead simple!  All you need is a jar and a stick blender. The recipe below can be customized with whatever oils and flavor you want.  Add dill weed or make a curry mayo or a chipotle mayo.  The possibilities are endless!  In the avocado oil mayonnaise pictured here, I used a teaspoon of dried cilantro.
A word of caution, don't make a homemade mayonnaise recipe with extra virgin olive oil!  Just dont! I think every single person who attempts homemade mayo makes this mistake at least once.  We think because it's a nice healthy oil it should make a great mayo.  NO!  It tastes like dog doodoo (not that I know first hand what that tastes like!) and you will end up throwing it out.  The secret to making your own mayonnaise is using an oil with very little flavor. 
Avocado Oil Mayonnaise Recipe
Ingredients
1 cup avocado oil
1 large egg (allow to come to room temperature)
1 teaspoon yellow mustard – Do Not Forget This! It somehow makes the mayo set better!
1 teaspoon dried herbs (optional.  this is where you could add cilantro or dill or what have you)
Himalayan sea salt (a few twists or to taste)
Instructions
Put all ingredients in a wide mouth jar.  Using the immersion blender, run it until the mixture emulsifies and looks like mayo.  How easy is that!?

Conair Cuisinart Smart Stick CSB-75BC 200 Watt 2 Speed Hand Blender (Brushed Chrome)

I have made mayonnaise using a regular blender and yes, you can do that. You have to first blend the egg and other ingredients and then slowly drizzle in the oil.
The immersion (or stick) blender is just my tool of choice for this job! I like the Cuisinart because it comes with a perfect jar that fits the blender and has measurements up the side. It also works beautifully!
I hope now that you have seen how easy it is to make your own mayonnaise that you will give this a try!